Discarded porch awnings, bird nests, bedding plants, we must be working outside - right? Not so fast.....these make fabulous decor accents in any room.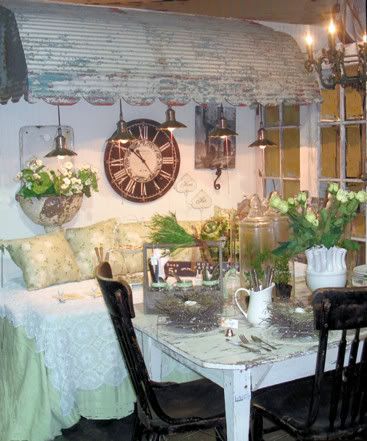 We brought the outdoors inside in this display during the last Canton show. I purchased the scalloped awning from my close friend and fellow Canton vendor, Debbie Pongetti, aka Funky Junk. This great piece came from an old farmhouse and I laid claim to it the moment she unloaded it. Aaahh......the perks of set-up day!! (Btw, Debbie and I are next door neighbors in the Arbors.) This unique find has been resting in storage for the past few months awaiting a summer show, so I was excited to finally drag it out. It's a funny thing….when we hung this awning in the booth, I had a price tag on it. But, after gazing at it for a couple hours during set up, I casually yanked the tag because I couldn't part with it!! A frequent occurrence for me in this biz!! Whoever coined the phrase "Don't get emotional about business", certainly never dealt in antiques or junk!!
I put cup hooks inside of the awning and dropped 5 chrome pendant lights at alternating heights. It's always fun to mix old farmhouse items with something that has a young edge to it like the shiny chrome lights. Once that was completed, I snagged an old iron army cot from storage and covered it with an antique crocheted bed coverlet. The result was a great vintage look that had a lot of fun energy.
An old white farmhouse table complete with square nails was the resting place for a garden themed table setting. Old silverware is neatly divided in mason jars in a handled toolbox and tall apothecary jars played host to leftover bedding plants – they make great terrariums! In the center of the table is a white ironstone tulip vase – one of the most unique items we've had the pleasure to sell. This vase can take a simple $4.88 bunch of daisies from Wal-Mart and make them look amazing!! Flower arranging made simple for anyone!