Isn't that the sweetest thing?
Now I can say that I've been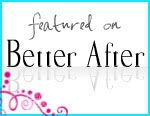 Can you see me smiling?
Be sure to check out her wonderful
blog
!
Thanks Lindsey! You really made my day!
And....
this made my day too.
He was sleeping so hard that he never heard me as I got nose to nose with him :)
But, he did hear the camera click. Sorry Zeek...
I sure love my sweet ol' boy...