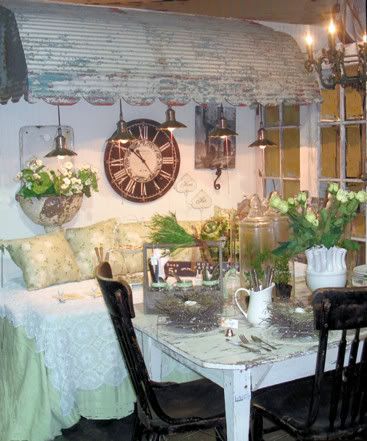 June 2007, that's when this photo of our booth in the Arbors was taken. Good grief that seems so long ago, but I've never forgotten this awning! I see lots of them, but this one was rescued from an old farmhouse and was positively the best I've ever found! I guess you never forget your first crush!

It's long since sold, but when I recently snagged some great old corrigated galvanized sheets from an old barn, hubster enthusiastically took on the task of building an almost exact replica! What can I say....he's good! Actually he built two, one was for the booth at First Monday! Check it out!
Out of necessity, we've been fashioning an office/project room out of the 3rd bedroom at 5th Place Cottage. I wanted an industrial yet soft look with a comfortable and informal feel. Fresh paint on the walls and trim brightened it up, but when we decided, on a whim, to hang the awning over the window...BAM! I heard music...instant focal point! This was the reason hubster built a second awning....I stole the first one for this room at 5th!
At first, I left the windows untreated, but since this room will be used for additional sleeping at times and as the cottage is situated on a busy corner, some sort of window treatments were a necessity. So, I found yet another flavor of window treatments using
burlap floor cloths
. I swear these are the most versatile things I've ever had! For this treatment I hung them with tacs and simply folded back the corners. No sewing, no hardware, no time. And when complete privacy is needed, just drop the corners, how 'bout that?!
Next, we moved in an antique daybed and filled it with
pillows
, it's just what this space needed! Extra seating by day, and additional sleeping quarters by night.
Completing the bone structure is a 6 foot cross bar table and a couple of X-back chairs. Now, we have lots of room to spread out for projects....and it's a great place to sew! I can stretch fabric all across this table!
Lighting in the room is a mix of industrial and
mercury pendants
, I'm pleased with the transformation so far!
We're certainly not through, but I'm really diggin the way this multi-functional space is taking shape!!
More to come on this!