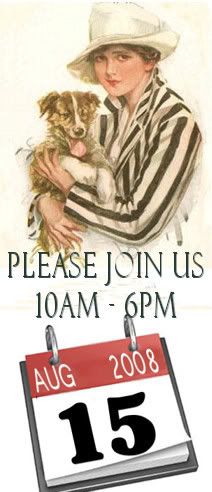 What a day spent wrapping up last minute details. As I type, my mind is whirling with so many thoughts....but mainly, I'm anxiously awaiting 10am tomorrow morning! I was astonished at the number of emails today, supportive and encouraging well wishes for tomorrow...thank you so much! My heart is very full - I feel blessed! It's been 8 weeks of grueling exhausting work and I've completely loved every minute of it. All that's missing now is you!
Okay, here are the details: We open August 15, Friday morning at 10am and will be here until at least 6pm or when the last person leaves!! We are located at 1501 N. Trade Days Blvd, Canton, Tx, and the store phone number is (903)567-8421.
By the way, the winners for yesterday's 30% discount on any home decor item are:
Amy B, Tracy Beth, & Toni.
I can't wait to see all of you tomorrow and I look forward to hearing your thoughts about the store.
Have a blessed evening!

~Smiles~

LaurieAnna