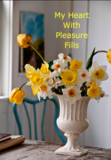 Congratulations Lori of My Heart with Pleasure Fills
You are the winner of this beautiful ring hand crafted by Dee Dee Style! You're gonna love it!
Drop me a line at sales@laurieannas.com and we will get this right out to you!
Giveback #4 is just around the corner, I have some great things coming at you! Get ready!