Okay, so this afternoon I called my hubby and told him to go ahead and file for a divorce.
It all started like this.....we had a storm today that scared my slobber monsters, aka my dogs. Thunder really spooks them and one of my big guys, Eddie, cleared the fence and was snagged by the dog catcher before I could round him up. He was two streets over when I pulled up and they were loading him into the truck. I tried to persuade the catcher to let me have him, but no-can-do, gotta go down and pay the fine. Okay, so be it....I'll follow the truck downtown.
I was a tad annoyed, but relieved that my buddy was okay, just needed to bail him out of doggy jail. But, while I'm waiting....in walks a lady with 4 kittens in a pet carrier. I'm standing at the counter and I can hear their lil cries. I kept telling myself...."Don't look down....don't look down....don't look down". And all the while that I'm uttering these words in my head, I'm staring at the sign above the counter that reads, "This shelter euthanized 184,319 animals last year, please spay or neuter your pet".
Long story short, I came home with Eddie and 4 new kittens. And also a new friend, Donna, that was surrendering the babies....she cried when I offered to take them.
My logic.....God led me to the shelter at that exact time for a reason. While in route home, I called hubby at work and told him to go ahead and file for a divorce....I'm beyond help! He just laughed and asked me to send him a pic. He's such a sweetheart to put up with all my animal rescue activities!!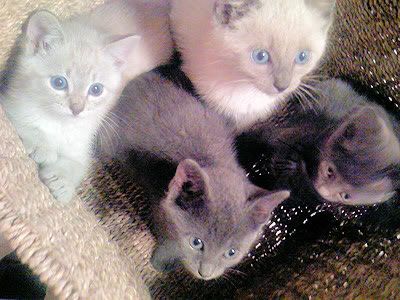 This is a pitiful pic....they are fast lil movers, but they are absolutely adorable! Now, it's family finding time, meanwhile, I'm loving these furry lil babies and thankful to know they are safe and sound, as is Eddie.
Blessings,
LaurieAnna
P.S. One home found, three to go!