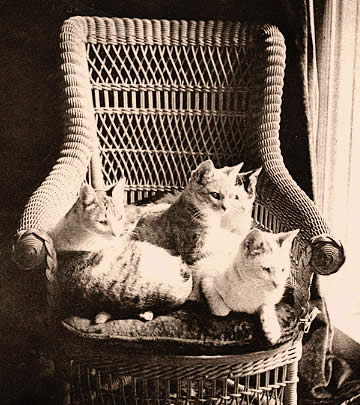 I can scarcely believe that the opening is less than 48 hours away!! So much work, so much merchandise, so much fun!! That's when you know that you're doing what you love… when you're working 18 hour days, without a day off for weeks, and somehow it doesn't feel like work.
Mark Twain said it best when he said, "Do what you love and you'll never work another day in your life". That about sums it up for me. I love Twain quotes and it made me smile when I came across this photo of his cats titled "Wide Awake". Although that is a phrase that I'm out of touch with right now!
Okay, let's see...how about another surprise? Let's say the first three comments will get 30% off one home décor accessory at the opening on August 15th, (can't be used with any other coupon).
Have a wonderful Wednesday!!
~Smiles~

LaurieAnna